Box Tops for Books!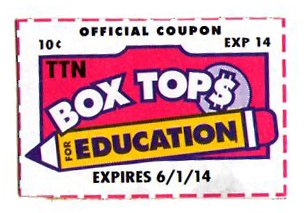 Don't forget- Box Tops are Dimes in Disguise!
As you know, each Box Top is worth ten cents. Our school uses this money to purchase new library books and materials. Students can turn in their collection sheets with taped Box Tops or attach a plastic baggie with real coins (dimes, nickels, quarters)! Each child will receive a treat for turning in their completed collection sheet (with Box Tops and/or change) and Box Top credit towards their class competition. (Every 10 cents= 1 Box Top).
For our 1st submission on Nov. 1, we earned $509.30. Keep collecting!
Our next mail-in submission deadline will be Feb. 20.
Thank you for sending in your Box Tops and Dimes!
**If you have any questions, please don't hesitate to contact me.