Due Date:
4/21/2017
Subject:
Kindergarten
Homework
Generally we have 5 activities in our Homework Folders each week. These are sent home Monday, should be completed at home, placed back in the folder and returned to school by Friday. Homework does not need to be completed Monday night! I know some children want to do it all at once but we want you to complete it when it is most convenient for you. Homework should be a review or reinforcement of what has already been introduced in class. You should not have to spend more than 10-15 minutes per assignment.
1. Phonics & Writing-
2. Reading/Phonics Check-Practice saying the sight words on the list. Check them off when the students can easily read them, sign & return.
3. Saxon Reading Practice Sheet-Practice at home, return when your child easily reads the words.
4. Take Home Readers-The book & reading log should be kept in the "reading bag" & returned in the Homework Folder. Encourage your child to tell you about the pictures & describe what is taking place & why. Ask questions! We talk about different story elements when we read books in class & encourage you to do so as you read to or listen to your child read to you. Talk about the characters (the people or the animals the story is about), the setting (where & when the story takes place), the role of the author & illustrator, is it fiction or nonfiction (not a true story or a true story)? Compare & contrast story elements, how are they alike or different?
5. Math Practice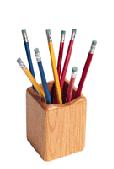 ---